Stairway to heaven
Do you, like me, sometimes wonder if the steps you are taking in life are the right steps to heaven? I know how to get to my personal heaven but am I taking the right steps to get there? Life is throwing me some difficult choices lately. I started my master degree educationalist which is a lot like child psychology but more with the context (parents, school etc.) of the child in mind. I immediately had to choose if I'm going to start with my master thesis or not and which internship I want to apply for. I also want to keep blogging and work as a performer and door-host. I don't want to give up my work as an volunteer at the child help line I work for. Last but not least is that I have to continue my work as a team-leader at the supermarket I work, to pay the bills. And social life, hallo? I want to do all but I can't. Unfortunately a day only has 24 hours.
I was so afraid to make a choice that I tried to do everything. It got me to the point that I had repeatedly got migraine attacks. It was like I had to go through hell to get to heaven. Which was clearly not working. I love all the things I'm doing but doing them all at the same time isn't fun. So I decided postpone my m-thesis and internship which immediately gave me some relief. I hope you're not in the same situation at the moment. If you are, remember the following:
Don't go through hell to get to heaven! 
---
Pictures: Peter van der Wal aka Mgr Madhatter
Styling : Elio Heres
Make-up : Merel Halfweeg
Hair: Renee Vos from Hairstudio Adonize 
Assistant: Gautier
Look: bowtie made by Janne Mooij from House of Cherries, shirt by Primark, clutch and loafers Topshop, green vintage pants is and black vest are from Bij ons Vintage, belt is vintage from the Lady Day located in the nine little streets.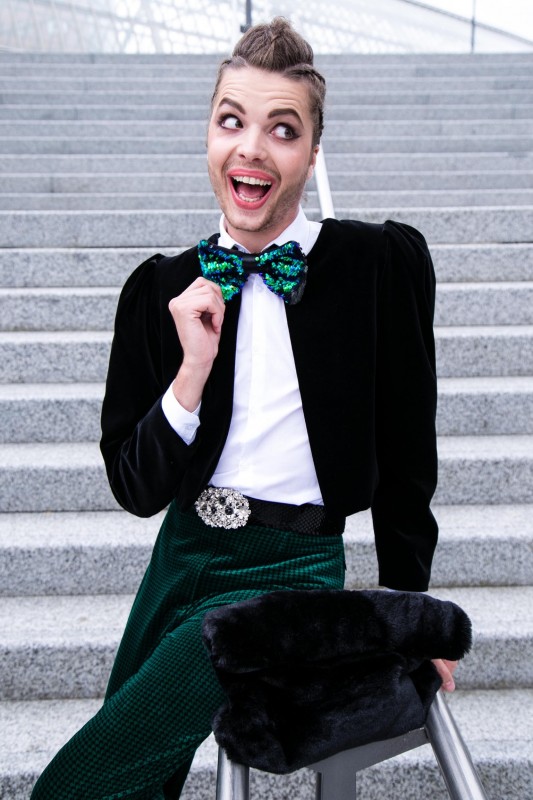 Koeskoes!