Fashion Rules
People often ask me how I put such amazing outfits together. Well let me tell you this, its not easy. I have a lot of what I call fashion rules which I follow and which dictate how I look. Also, I have certain scouting skills when it comes to shopping.
When it comes to my rules, there are too many to state them all. But I'll point out the ones I feel are most important. First, let colors you use in certain pieces of clothing or accessories in the outfit return in another parts of the outfit. For example, you can see in the look on the pictures below that I wear a golden earring with a pink stone and also have a pink little wallet in my transparent golden clutch. Besides, the clutch itself has a few of the same complexion pink on it. However, there is one exception to this rule. When you're wearing an outfit which totally consist off one color you can choose a totally different and outstanding accessory or shoe in another color. Colors I'll never combine are brown and grey, red and pink or gold and silver. But off course, that's personal. Other people absolutely love the combination brown and grey, but I think it conflicts. If you really want to dress over the top you can wear gold and silver together, but your whole outfit must!!! consist out of items in gold and silver.
When it comes to my scouting skills in shopping, I absolutely love vintage stuff. I always scout for clothes with sequins and the chic colours like bordeaux red, royal blue, emerald green, broken white and infinite black. When it comes to faux fur stuff and other fluffy fabrics, I go totally crazy. But, transparent items are my all time favorites!
As you can see it's all about the different colors and fabrics you like and how you feel that they should (and could) fit together. Off course it's not easy when you have all these rules and you really care about them. I too have a fashion crisis now and then (really). When that happens, I feel sooooo cranky. It happened to me this weekend before Milkshake festival. The thing is, I really like to wow people. But:
In the end is it all about owning your style or styles…
That is what fashion is about. Let people see what you want them to see about you
————————————————————————————————————————————————————————————————-
Pictures: Petra van Velzen, Photography & Webdesign
Styling: Elio Heres
MUA: Elio Heres
Hair by: Hairstudio Adonize
Look: golden with pink stone earring by Topshop, vintage top by Bij ons Vintage, faux fur scarf by Zara, golden legging by Coolcat, clucht by Asos and loafers by Topman. 
Location: Rijksmuseum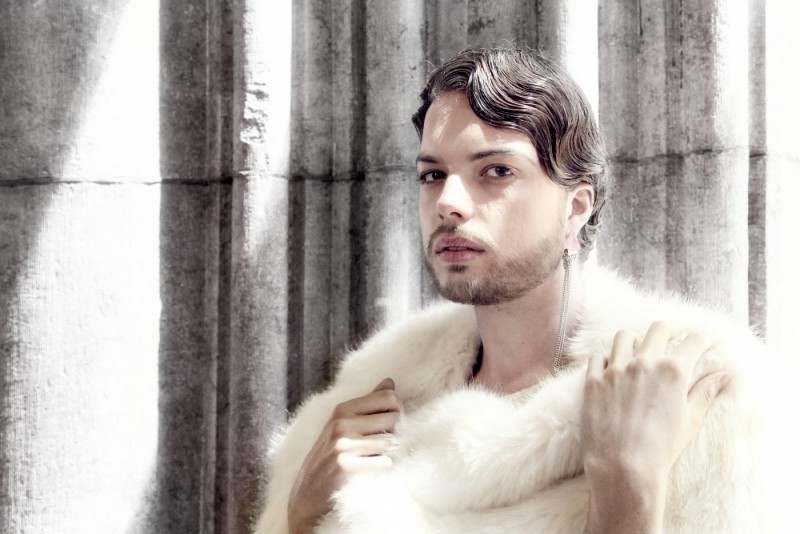 Koeskoes!