Bitchy Doorbitches
You probably have met some pretty bitchy doorbitches when you went out. They think that they are the beholder of the guestlist and because of that, they feel superieur or they think that because of their fierce look and/or beauty they can be bitchy. I always hate when that happens! They are missing the whole point of being a doorbitch or -how I like te call it- a (door)host. Yeah it's true that there are some pretty lame people trying to get in with lame excuses or even get insulting. It even happens that people who are standing in line, gossip about the doormats, which can boil up some insecurity for the host.
Still, the job of a doorhost is to welcome the people to the party, to give them a taste of what they can expect inside, without even hearing a beat. The doorhost is where the party begins, where the mystery, illusion and love for the unknowns starts. At least, that's what I think it's supposed to be.
And that's why I think it's so important to have a fierce looking, warm and friendly doorhost at parties. It gives the party a face.
Doorbitches don't have to be bitchy…
Pictures: Peter van der Wal aka Mgr Madhatter
Styling : Elio Heres
Make-up & Hair: Merel Halfweeg
Styling assistant: Thijs Jansen 
Look: white collar made Sabine Staartjes & Elio Heres, black tule collar/dress made by Jet van Dijk,  heels are from Solestruck.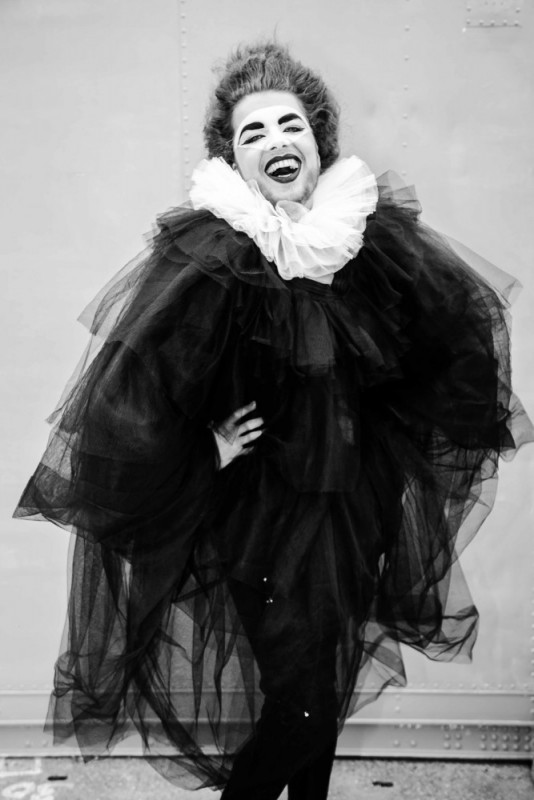 Koeskoes!