Getting old
I've been struggling with the feeling that I'm getting older for a while now. I don't go out that much anymore, actually only when I have a gig such as the ANDRO~GENIUS act at Radion Weekender two weekends ago. Or when I got to give away the Golden Gnome award for most Fabulous Nachtvlinder (which translates as most fabulous person of the night) the category in which I won last year. Shame on me! It feels like I'm letting the award down. Don't get me wrong, there is still plenty of nightlife gigs where I perform, do styling or where I'm the doorhost. I used to get the party fever on Thursday night. I could not stand a weekend without partying. Nowadays, I'm very happy with chillings on the sofa and leaving early for bed. I go straight home after a gig. Even when there's an opening of a club or a new party, when the clock strikes eight o'clock in the evening I'm already longing for the sweet scent of my pillow.
So I decided to do something about it. I'm 26, so I'm far from old. I need to be more out and about. So grannie Elio went to a houseparty hosted by the fabulous Jos Dijkhoorn and his friends. I showed up very late. He was happy to see me, but he said that he never expected me to actually come, ouch! They immediately made room for me on the only sofa there was. Am I really that old? I told myself that they probably know I'm a bit of a diva. Looking around, I realized I was by far the oldest guest there. All the kids, yes I called them kids, had such beautiful smooth faces and lived what seemed to be such careless lives. Most of them where not even 20 yet. They seemed to talk in a different language with words they had to explain to me all the time. They were so hyped up, full of energy and bubbly. I was truly amazed! But at the same time I was horrified that I wasn't like that. I clearly didn't fit in with the kids anymore.
I felt so much calmer. I was observing the kids rather than engaging in conversations with them. They seemed to be living in a different time zone.  Maybe it's all my responsibilities nowadays. Or maybe it's because I only really started to go out at the age of twenty, because of all the drama in my life before. I think the reason doesn't really matter that much anyway. I think that ship has sailed for me. Although we all want to be forever young I don't really feel sad about ageing. Like Pablo Picasso once said:
We don't grow older, we grow riper…
That provides some comfort doesn't it? I will not use it as an excuse to not go out anymore. I will use it as a motivation to go out more and hang out with the kids. Who knows, they might like me for being riper.
---
Pictures: Remco Sijtzema
Styling: Elio Heres
Make-up: Leonie Schuurman
Hair: Renee Vos from Hairstudio Adonize
Styling assistant: Maikel Huijsman
The look: Bolero, top & skirt by the colourful designer Sabine Staartjes, necklace by Cecci Fashion, milkshake clutch by Ali Express, heels are from Jeffrey Campbell bought on Solestruck
About the look: It's a really colourful design from Sabine Staartjes, so I decided to work further from that. The necklace, clutch and make-up are colourful as well, all with a touch of gold which makes the outfit more classy but at the same time bubbly. At first I wasn't so sure about the heels because they're are a bit of neon pink, but in the end it works really well. This outfit makes me wanna eat popcorn, candy floss and bubble gum all day! Makes me get in touch with my inner kid again. What do you babies think?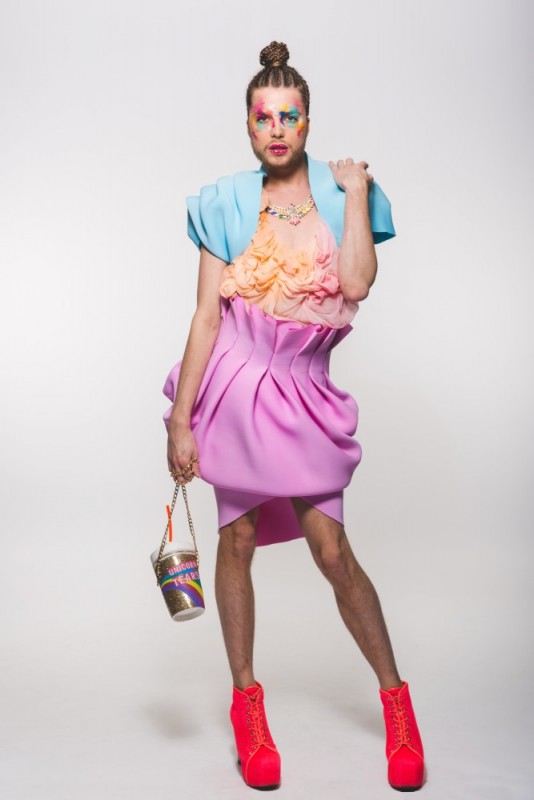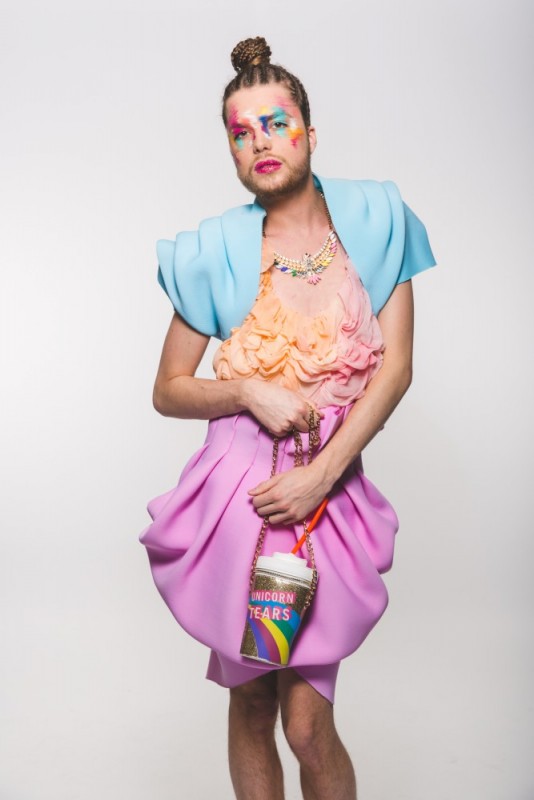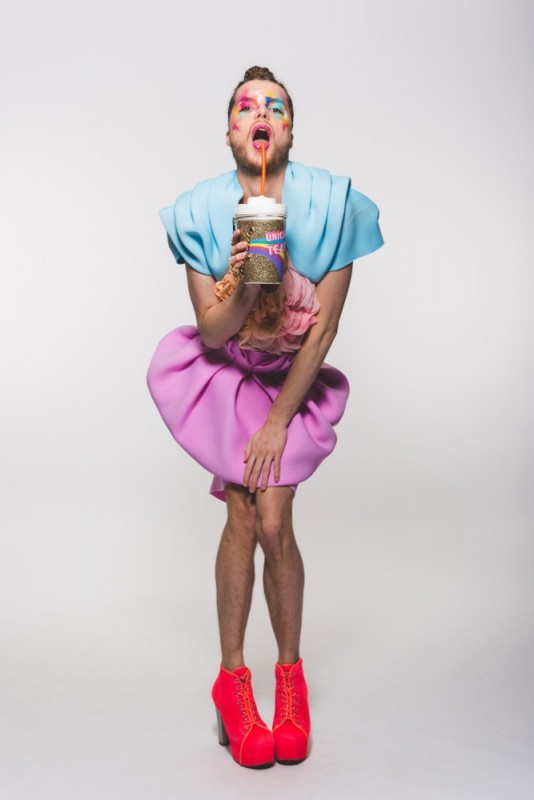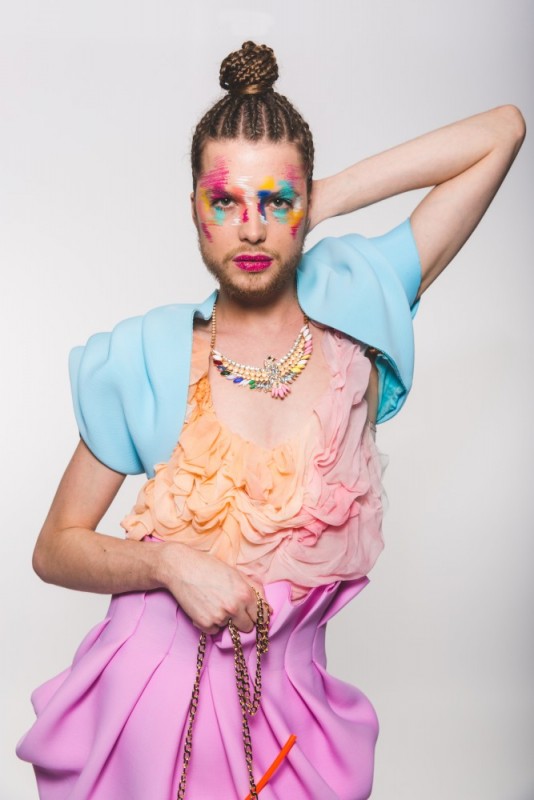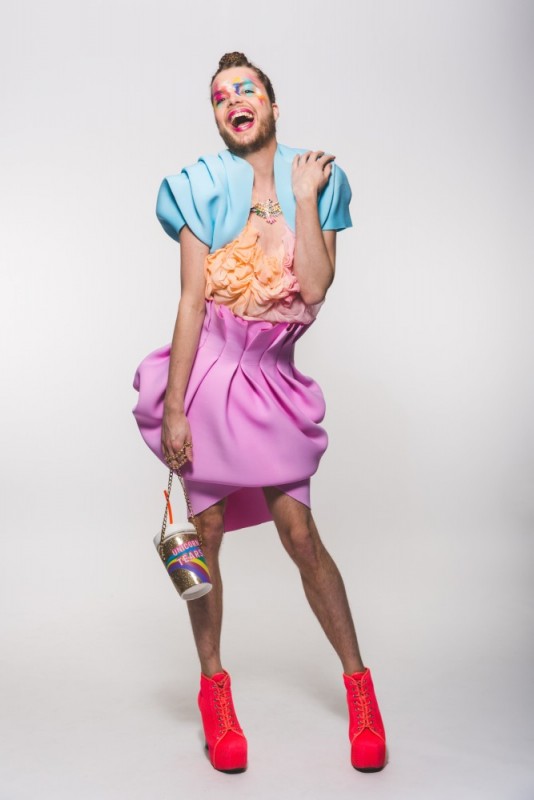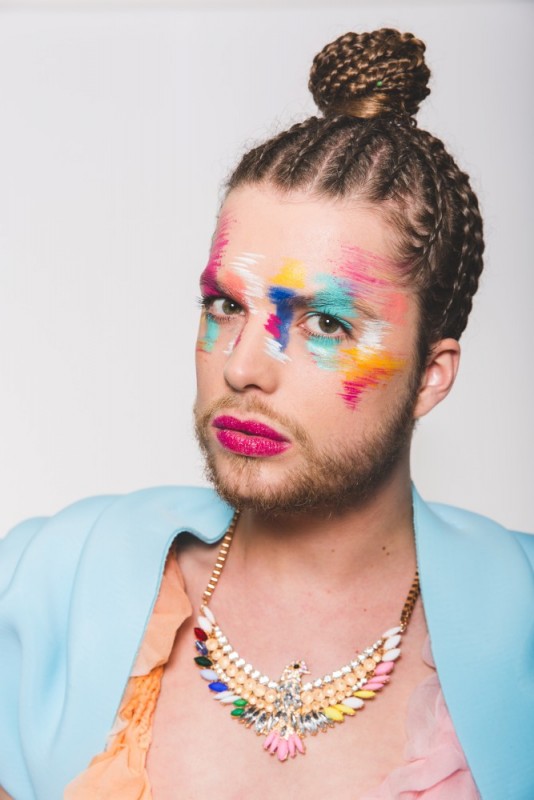 Koeskoes!